This week I received an email asking me for tips on quilting. Wicked cool because I'm still surprised to learn that someone other than my mom and my handful of friends read this thing. It wasn't the first time I've been asked about quilting, so I decided to throw together a few posts about it.
Quilting is not hard. In fact, it's incredibly easy and relaxing. But it can also be incredibly frustrating. Like if you don't read all of your pattern before you buy fabric or cut fabric (don't do that). Quilting is basically geometry, only easier. You can choose to use patterns or wing it. If you use patterns, they are made of geometric squares or triangles that all fit together like a puzzle to create an overall pattern. You just sew one piece to the next, to the next, and so on - in the order your pattern tells you, and ... that's it!
The first thing I'd advise you do is sign up for a beginner's class at your local quilting store. (A quilting store is NOT Jo-Ann's or Michael's, by the way... you'll have to look through the phone book or online to find one in your area.) If you don't have a local quilting store, inquire at church or at your community bulletin board if you have one of those. You need to find someone who is already quilting and who is willing to tolerate you asking 1,458,476 questions (if you're like me anyway).
I also feel the need to tell you that, while I have made several quilts and blankets in the past several years, it was only in this past year that I actually
read and used a pattern for the first time
. (A strip pattern and my first jelly roll, as a matter of fact.) There it is, Folks. The naked truth. Before, I always quilted same-sized squares - what old fashioned quilters used to call "Around The World." Just squares. (And actually, 5" Charm Packs - see below - work perfectly for this.) I only did squares because I was a big, fat chicken. I would HAND CUT WITH SCISSORS (told you I was crazy) thousands of squares, each the exact same size and then lay them all out on my living room floor. Then I would sew one to the next, to the next, until a row was done. Then when all of my rows were done, I would sew row to row, to row until the top was done. Good times. Actually, things have come such a long way since then. Rotary cutters became available.
Before you buy fabric or patterns, you really, really must collect these tools:
1. A rotary cutter, like this one from Olfa:

2. A cutting mat - buy the largest you can afford - at
least
30"
3. An acrylic grid ruler

4. Straight pins
5. A dependable sewing machine and extra machine needles (I always use denim weight needles; they break less often)
6. Quilter's thread. Dual Duty is my favorite because it was my granny's favorite. I buy lots of white (I quilt only in white; it's just something about me, I guess).
7. A few needles for hand quilting the binding
8. Maybe
this book
...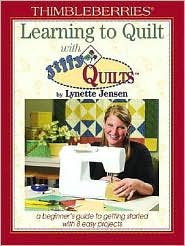 I'd never seen it before last fall, but let me tell ya... everything you want to know about quilting is in this little (big, actually) book. Might check and see if they have it at your local library. Unless you live in South Dakota, because they won't have any cool quilting books. Anyway...
Once you have your supplies and coupons for Jo-Ann's ready, start looking through magazines or online through photos of quilts to find some favorites. Don't pay any attention to how hard you think they look, just find something that makes your heart happy. Colors, size, pattern. You can find quite a few on
Flikr
(I just did a search on quilting). I save my favorites in a folder on my hard drive. Then, when I'm looking for inspiration I can just click through until I find what I'm looking for.
One of my favorite sites to look through for new fabrics is
PurlSoho.com
. They have some amazing fabrics.
There are few sites I check regularly for inspiration as well:
Amy Butler
:
(I'll be making a quilt with the above fabrics soon.)
Heather Bailey
:
Even a dolly quilt...
So talented.
Denyse Schmidt
and
Anna Maria Horner
: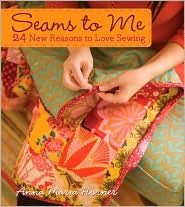 Check out all of her quilts
here
.
Some fabric companies make it incredibly easy for you to quilt by making things called Charm Packs (5" squares of coordinating prints) or Jelly Rolls (fancy way of saying a stack of coordinating strips cut to identical widths/lengths, used for making strip quilts). Here is a jelly roll by Moda (available at FatQuarterShop.com):
Jelly Rolls and Charm Packs are wonderful ways to use a pattern for the first time.
... I guess this is plenty for today. More to come.