If you think I'm still lacking in inspiration, I'm not. Take a look at that hand up there. That is a teenage hand, lifted high in praise of Jesus. I took that shot at our youth meeting last week. I took more amazing shots last night. It's an amazing experience to witness (the shouting, jumping, electric youth-in-love-with-Jesus-scene), let alone capture on film. So, I've been inspired by this lately. Looking for the meaning. What is God calling me to see in doing this? How can I make them better? How can they make me better? Man, I love Jesus. He is one awesome, awesome Dude.
So, in my last post I griped and complained and let me tell you - the state of my house is no better - yet. I almost took a shot of my sink to show you this morning. Except my mom would have been ashamed, so I did not. Last night was church so we came home late and I hit the hay without cleaning up after dinner. *gasp*
I KNOW, RIGHT?!
Like one of my biggest pet peeves ever - because this morning? This morning was disgusting in the sink. Ick. And this evening when I get home from work will be even more disgusting. Oh well, I have to let it go. There are only so many hours in the day, Folks. I am but one parent trying to save the world. Here's hoping that Kiki doesn't lick up leftover Velveeta juice and increase her
smelly pooting ability
.
New subject. When I have inspiration fluttering around inside of me, I make lists. That's how my process starts and smolders. You know I love lists. Yesterday I made a new one. Two at once actually. A list of things I want to find for myself and projects to work on at home. I need to hang these lists up so that I can cross things off one at a time. That will feel good.
Projects

Nip waist on grey jeans & 2 pair chinos
Let down hem on brown and navy pants
Wipe down all shoes and bags (donate!)
Audit bathroom items (old shampoo bottles, etc)
Audit folded clothes, socks
Audit scrapbook supplies in storage (donate!)
Make pillowcase dresses for Moo and
Etsy
Change lightbulbs outside garage
Fix hole in green turtleneck sweater
Rebind lavender tag sale quilt
Bind triangle quilt from Mary - yo-yo's
Rebind and topquilt 1st quilt
Remove apple juice stain from living room carpet
To Find
Tag sale lawn mower (SOON!)
Tag sale yard toys (think big plastic fort for Moo) and pool
More scarves (try the
Angie
knot)
Converse tennisshoes (loving them in grey... and red)
New heels in red and yellow (OMG it's all I can do to not order these yellow Ed Hardy pumps)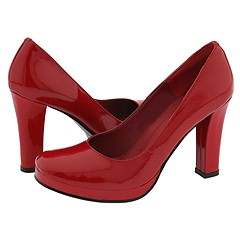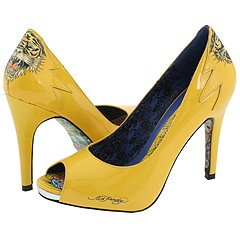 (Do you see the tattoo markings and the freaking awesome peep toe?!?! Oh Holy Grail of shoes.... please go on sale soon)
Fabulous jackets and hats
Vintage jewelry and skirts
Vintage leather jacket (almost) any color
I have found a new blog to read and admire. You all must go there. She is an awesome fashionista named Angie - from
http://www.youlookfab.com/
. She has tons of tips and tricks and outfit combinations that are affordable (
some
are affordable, but I love looking at high fashion) and she offers advice for all body sizes and shapes. She's trendy and modern and ultra cool. I LOVE her. I've been reading her archives and there is. so. much. good. stuff. that I'm on day 4 and have only read back one year so far. Yummy stuff.