If you follow my

Pinterest* account

, you might have noticed that over the course of the past few weeks I have pinned a bajillion of these.
Notice anything in common?
Right. I wanted a red rinse put in my hair. I thought about it for weeks and weeks, just to make sure I wanted to take the risk with the hair I'd been growing out for 15 months. Now, I realize I am no hair professional. And I realize I have made a great many mistakes in my life pretending to be one. But I really thought I had it whacked when I went into the salon and asked my usual stylist about putting a semi-permanent rinse in my hair that was at my same hair color level. Not lighter; not darker. Not more violet or more ash. Exactly equal, only red. A "termporary, transparent film of red" I told her. She assured me it would wash out in about 6-8 weeks if I used color- safe shampoo and there I sat. When my hair was washed, rinsed, and the towel removed, I looked like this: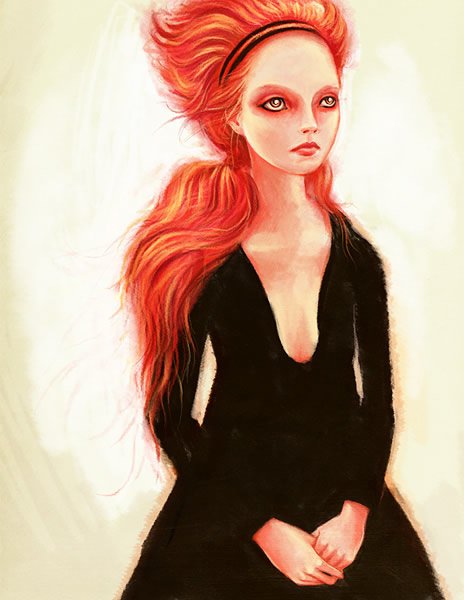 Don't roll your eyes at me, People. I'm not far off! The red took to my hair like a sonofabitch. It was not a transparent film of red. It looked thick. It took some time as I tried to get used to it. I wanted to like it. I wanted to LUUURRRVE it. But I couldn't. It was NOT me. In fact, I used this to fade it more quickly:
This shampoo smells like your granny but it will get ANYTHING out of your hair (chlorine, too, Peeps). The color swirled around in the tub like crazy but only faded a little. I liked it much, much better after the 1st, 2nd, 3rd, and 4th times I washed it. Each time it looked more like a color you know, found on Earth.
By the time the Dierks Bentley Jaegermeister Country Tour rolled around, I had it at a point where I thought about keeping it. Briefly.
Both Mindy and Bryon liked it, but I just couldn't get there.
Finally, on Easter Sunday after church no less, I decided I had had enough. It just wasn't me. I didn't feel like myself or any improved version of myself or any whatever of myself. I started searching the interwebs for a solution. I was

ready to break out the Dawn dish detergent (that shit will strip color from hair, too – the blue original Dawn – but it really dries it out)… when instead I found multiple positive remarks about a product called Color Oops (available at Walgreens).
Color Oops does not use ammonia or peroxide/bleach to remove color from your hair. You mix the two bottles, apply the gel and wait 20 minutes, and then rinse your hair for 27 hours. The most recent color application to your hair is removed. During those 27 hours the hair color intermediates (molecules) shrink back to their original size before they applied themselves to your hair, and then rinse out of it. The process was easy, though I'm only partly kidding about the 27 hours of rinsing. It did take forever. And a LOT of hot water. In the end, the bright red was removed from my hair and rinsed away and I was left with a ginger "natural" color. Why ginger you ask? BECAUSE THE SEMI-PERMANENT RINSE SHE USED HAD PEROXIDE IN IT, despite her assurances that it did not. So my natural color was no longer what I started with; it was lighter. I was unwilling to do anything more myself and instead placed that frantic 911 call to my stylist after hours, politely requesting an appointment at her earliest possible convenience.
You might be wondering why I didn't wait or call my stylist for help to begin with. Or even made an appointment to have HER remove the red. If you're wondering these things then, 1) you don't know me very well. When I am determined to do something, I am impatient. Also, I have to do it and see it through by my own self (this, said in the most Mabelish way) and 2) well...keep reading.
I kept washing it and rinsing it after the Color Oops. Each time I used a protein treatment and a deep conditioner. The Color Oops had NOT "stripped" or damaged my hair, but it was a bit dry from all of the rinsing. Couldn't hurt. Plus I knew how porous it would be after the color removal. If there was any hope of me redying my hair darker WITHOUT it becoming full out black, I knew it was in my best interest to fill my hair follicles up with protein. Weird that I know that, but I do know that one!
Bless Bryon's heart. He liked the red. He loves me regardless. He was trying to figure out what to say and I really couldn't tell him what I needed to hear. It felt like I had wasted the 15 months of growth. I was sure I'd end up cutting all of my hair off again, just to get back to my natural hair. And yes, I banged my head a million times wondering why I had to go and feel adventurous and fix something that most certainly was not broken.
On Monday I had to go to work with ginger hair. Lucky for me I had to leave work early, so I only had to face 2 people who asked about my hair. I refused to make eye contact with anyone else and I wouldn't eat lunch out in Bryon's shop either. Hell no. I had Snuffalupogus hair. Seriously.
I quickly made an appointment at the salon. My usual stylist was not available. The only person in that salon who could ever possibly remember what my natural hair color WAS wasn't available. Of course. Instead I saw Monica and showed her my eyebrows. First, I gave her all of the paperwork and information on Color Oops so that she would know what chemicals (hydrosulfate) were used. Then I apologized for not leaving it up to the professionals, but I'm human. And I'm a girl. We do shit like this. She was nice, but… in retrospect, not the level of colorist I probably needed. Poor Monica.
We started with a semi-permanent, neutral brown. She used a level 6/7, which I am naturally. I told her that the Color Oops packaging had suggested a level lighter than what you want because the color grabs too darkly on porous hair, but she "assured" me that she knew what she was doing and it would be just fine. Right. And that red didn't have any peroxide in it before. I prayed. I prayed SO HARD. I also suggested that we do another protein treatment just in case but she assured me that it wasn't necessary either because my hair felt so healthy. Alrighty then. I prayed some more, and the semi processed on my hair. I should also mention that Monica suggested adding a few teeny, tiny, itty, bitty strands of lighter color so that the overall look would be dimensional instead of flat. SHE USED BLEACH, PEOPLE. The highlights lifted like mad. Then she ran off to mix a toner that would darken the highlights she'd just put in. Wait… what? My hair was already lighter; there was no need for bleach. Who approved highlights?
She dried my hair facing away from her mirror. I hate that. Seriously. This is not What Not To Wear. I do not need a big reveal. Dried, my hair looked better. It did. It wasn't red anymore. It wasn't ginger anymore. Snuffalupogus was gone. Except my roots were auburn. Dark auburn, but the red was still there. And the highlights? Oh holy shit. They were not itty bitty or teeny tiny. She did not weave them in and out… she just took a line! A whole freaking line. They were HUGE.
I took some deep breaths. She looked at me with hopeful eyes, that Monica. Bless her heart. I know she was trying to help me fix a problem I helped to create. But I have a fundamental problem when we pay service industries for something with specific instructions, who then do not follow our requests. I decided to think with a thankful heart and be grateful for the progress made. I thanked her for that. And I told her what I liked about it. And then I told her what I did not. She took it well and back over to her chair we went.
She another semi (if you are wondering why we didn't use permanent it is because that DOES use peroxide to alter the color composition of the hair strand and you don't want to do that until you fine tune the exact color you want; with semi, you can get it wrong with less consequence). She used level 6/7 again but applied more ash to get rid of the red in the roots. She also did some weaving on the ginormous highlights to lessen them by over half. Another 20 minutes, another wash and rinse, and she dried me again backwards.
This time it was much, much better. And much, much darker. My Lord I would bet I am a level 4/5 right now. That's almost Katy Perry, Folks. I inspected it again and was resigned to two things, 1) it was as good as it was going to get without ending up even darker because Monica was incapable of listening to her customer say "I think we should use a lighter color", and 2) I TOLD HER SO. I told her it would take like mad. I told her she needed to use ash the first time. I told her teeny tiny. But… there I was.
I went home and called Mindy, in tears. Decided I'd used them up on her before B got home so he didn't have such an emotional meltdown to deal with, not speaking girl and all. Mindy dubbed the whole thing The Great Hair Caper of 2011 and convinced me to go wash it. I was terrified that if I did, the ashy dark in the roots would rinse out all at once and uncover the red. But it did not. I had it dried by the time Bryon got home.
He looked at me from across the kitchen.

"I like it," he said.
That's big, considering positive responses from B come in two forms: it's fine and it's alright. Those are GOOD responses. But 'I like it?' That's even better!
I got up in the morning and didn't wash it. Because I wasn't ready to lose any more of the color. I don't know. Maybe I like it darker. Maybe. Maybe it's going to be just fine and I won't have to chop it all off. Maybe. I've always loved dark, dark brown hair… just haven't given it a go. Until now.
* Do you know about Pinterest? It is FABULOUS. It auto links to all of your posted images from the web, providing proper credit, which is key! Plus it's a handy place to keep all the things you love and search for new things to fall in love with. I tired of Tumblr, which would not allow me to sort. So there you are. Go check it out, and please see it for all of my Pin sources!