Dear Fage yogurt with honey-pour-in, you have my HEART. Chobani vanilla (which is gluten-free, by the way) wants to be as good as you, but it's just not. You are fabulous.
Here's something I don't think I've ever shared with the world via blog: I LOVE natural stones and rock collections. I used to collect quartz and unique rocks in Southern Ohio when I was little and keep them in a little box in my closet labeled "rock collection." It's something I've let go of a bit and I can feel the love coming back, y'all. The earthier and more neutral the stone, the better. I also love mother of pearl and turquoise. This stilbite ring makes me hyperventilate (image Pinned for source).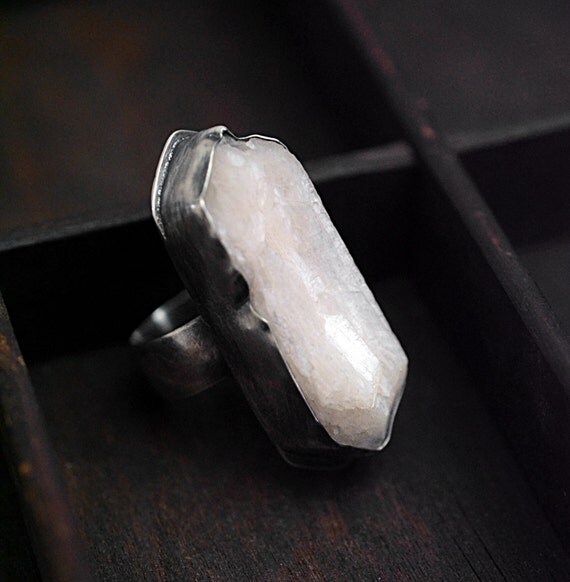 If I could go back about 20 years, I'd tell myself… well, I'd tell myself a lot of things. But I'd certainly mention personal style. I had it back then, but I often tried to turn it into something else for someone else. Please don't ask me why because that's sort of a deal breaker nowadays. But back then I doubted the skin I lived in a bit and so my fashion choices were all over the place. Now that I have fine-tuned what I love I really wish I'd have stuck with what I loved most all of those years ago because… it's basically the same. Why didn't I wear hats all the time and bangles and tons of silver jewelry like I did in high school? And where is my mother's wedding band? I wore that on my thumb for about 4 years. And always JCrew. It was like boho+JCrew got married all up in my closet. But oh, the jewelry.
Judy is the original magpie. Her love for silver rings goes way back. WAY back. Actually my favorite piece of mom's jewelry are her silver hoop earrings. They are great quality. She's worn them since I was very little and they are the perfect size. Seriously – the perfect size. Dainty but solid. I remember going into a Native American store with her in town as a teenager and it was a race to see who could find the coolest new rings. Judy always did. Always. Now that I live in Da Plains, I have access to Native American jewelry on a whoooooollle new level. I cannot wait to visit the Black Hills again this year and pick out the perfect mother of pearl ring and turquoise bangle. I'm totally planning it.
Speaking of planning, Mr. Man has his 41st in less than a month. We'd hoped to have a yard party by then but dude, 4" of snow fell yesterday. Not cool! We'll see.
While we did have snow this week, we've also seen a few days above 50 here and there and boy howdy, when we do – ALL the kids in the neighborhood are thrown outside by their parents to run and scream and ride their bikes until they pass out. Ours included.
I've been trying to drink 2 liters + of water every day for a couple of weeks now. It makes SUCH a difference!
I am such a stubborn person. I'm not bragging about that, either. I listen to Christian music every day and would you believe that I didn't like it until I moved to Da Plains? I thought it was a bit… much. Just a little too much Jesus and a little corny perhaps. But I was being stupid. Ignorant about what I didn't know. God's music is louder here; in the trees, the sky, the air is simply more full of Him in this place. Mindy played it as we tooled around town to and fro' the quilt shop and while listening in the car one day, it happened… I was hooked. I knew the words by then and JAMMED it everywhere. My kids can sing some serious Mercy Me and Lincoln Brewster because I played them relentlessly in the car every single day. I have not looked back since; it is positive and uplifting ALL the time, no matter what kind of mood I am in and I especially listen when I am troubled. I wish I'd done it years ago.
English bulldog puppies are the most precious in the wide, wide world.
Speaking of all that water - do you know what girls do? We always "hold it" until we absolutely, positively MUST urinate or die. Seriously I sit at work for hours while needing to pee for no good reason whatsoever know it's not good to hold it, but we do it. Every girl I have asked does the same thing. I think it's the need to get just one more thing done before pausing. Probably the same reason I hold it at home; I wait until I have finished everything on my mental to-do list before stopping to go. Grrr. Also on the list? Trying to carry in all grocery bags, looped on both arms, in one trip from the car. We will stand there and one-finger-swat the door handle to get it open, too. We are weird.
Mr. Big's To Be With You makes me swoon. It's so 90's. I listened to it at our high school lock in in 11th grade. Whenever I hear it I want to watch 90210 and straighten my hair.
I'll tell you something that sucks about following a gluten fee/Paleo diet: when we're invited out to dinner, we usually respond according to my ability to eat at that particular restaurant. Or we suggest the location based on where I can easily eat. God bless my husband for being so willing to do it; it's a pain in the ass. I'm quite fortunate that I live in a city large enough to have a few restaurants with a published GF menu, though I have been glutened by ordering off of one before (cross-contamination, I think) – but it is not easy. It does make celebrating with friends a bit more complicated. And who wants to go out with friends and end up sick 20 minutes later? Blech.
Has anyone else noticed that the past, oh maybe 4 episodes of Grey's Anatomy have contained remakes of 80's music? Almost every single song is a remake: Man In The Mirror, Time After Time, Total Eclipse of the Heart, All Through the Night, Don't You Want Me. Like a ton! Every time I have to text my husband immediately because he is the die hard 80's music lover. The remakes are stellar, surprisingly. I have downloaded most of them. I particularly love Sleeping at Last's All Through the Night. Wow. But I'm saying the music director for ABC has an 80's thing clearly. And I'm diggin' it.